Rod writes...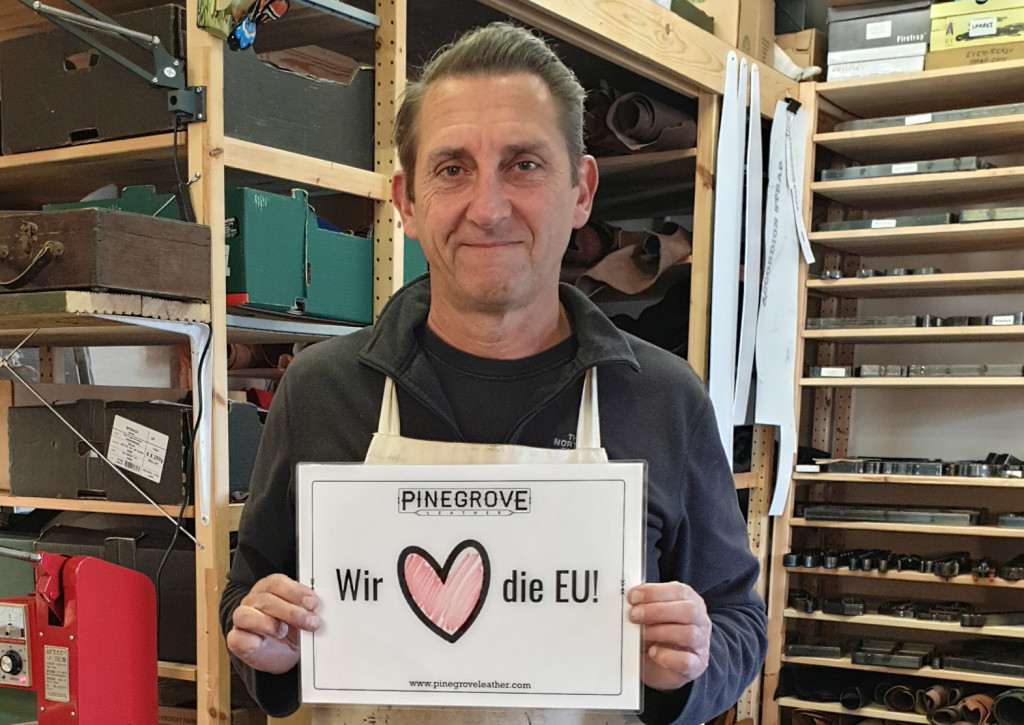 We love the EU and we're sorry about Brexit. Not our fault of course, but here we are, in a mess.
New rules mean that our EU customers now have pay extra tax (VAT) when they buy from Pinegrove Leather. The system for paying the VAT is difficult for us to set up on our web site. If we don't do it right then your package will be held up in EU customs.
However there is an easy solution: Go to our Etsy shop...
https://www.etsy.com/uk/shop/PinegroveLeather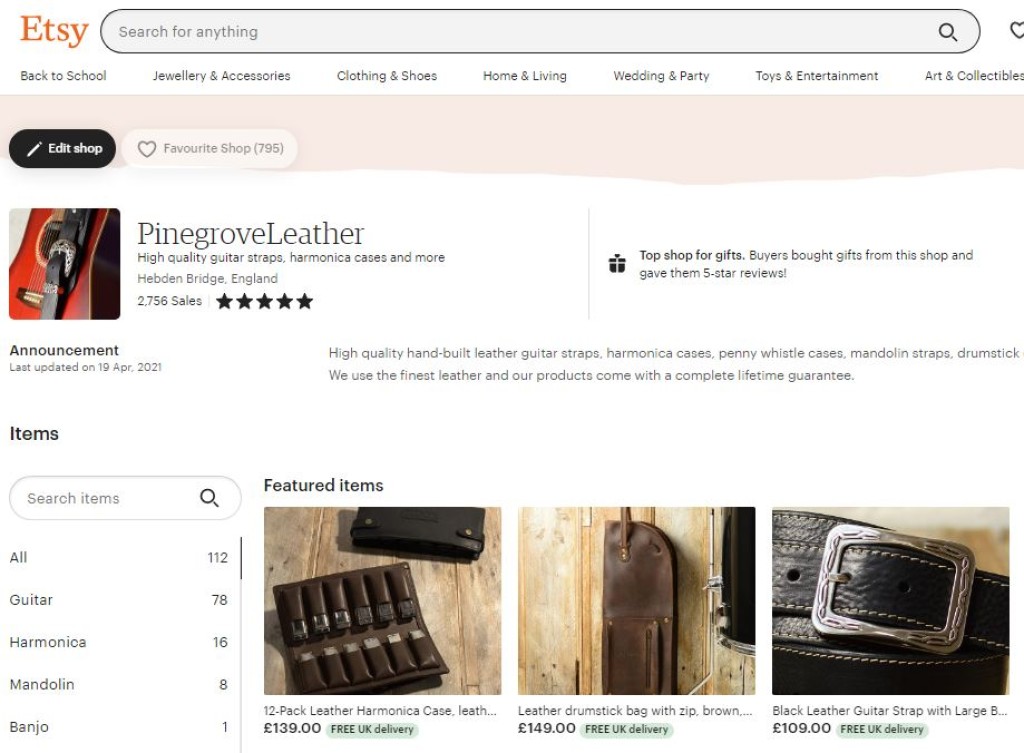 Etsy is a fantastic online marketplace where you can see all our products. The prices are higher, but the shipping cost is built in, so they're almost the same. Etsy automatically charges you the VAT when you order. Then your package will get to you without problems.
If you buy from our web site you will not be charged any VAT at first, but... you will be charged VAT when the package arrives in your country, plus extra handling fees.
We'll update this page if anything changes. Any questions, just email info@pinegroveleather.com or use the Get In Touch page.

Francais
Nous aimons l'UE et nous sommes désolés pour le Brexit. Pas de notre faute bien sûr, mais nous voilà, dans le pétrin.
De nouvelles règles signifient que nos clients de l'UE doivent désormais payer une taxe supplémentaire (TVA) lorsqu'ils achètent chez Pinegrove Leather. Le système de paiement de la TVA nous est difficile à mettre en place sur notre site internet. Si nous ne le faisons pas correctement, votre colis sera bloqué aux douanes de l'UE.
Cependant, il existe une solution simple : rendez-vous sur notre page Etsy https://www.etsy.com/uk/shop/PinegroveLeather

Etsy est une fantastique place de marché en ligne où vous pouvez voir tous nos produits. Les prix sont plus élevés, mais les frais de port sont intégrés à Etsy, donc ce n'est qu'un peu plus cher. Etsy vous facture automatiquement la TVA lors de votre commande. Ensuite, votre colis vous parviendra sans problème.
Nous mettrons à jour cette page si quelque chose change. Pour toute question, envoyez simplement un e-mail à info@pinegroveleather.com ou utilisez la page Get In Touch.

Deutsche
Wir lieben die EU und bedauern den Brexit. Natürlich nicht unsere Schuld, aber hier sind wir in einem Durcheinander.
Neue Regeln bedeuten, dass unsere EU-Kunden jetzt zusätzliche Steuern (Mehrwertsteuer) zahlen müssen, wenn sie bei Pinegrove Leather kaufen. Das System zur Zahlung der Mehrwertsteuer ist für uns schwierig auf unserer Website einzurichten. Wenn wir es nicht richtig machen, wird Ihr Paket beim EU-Zoll aufgehalten.
Es gibt jedoch eine einfache Lösung: Gehen Sie zu unserer Etsy-Seite. https://www.etsy.com/uk/shop/PinegroveLeather
Etsy ist ein fantastischer Online-Marktplatz, auf dem du alle unsere Produkte sehen kannst. Die Preise sind höher, aber die Versandkosten sind inklusive, also nur etwas teurer. Etsy berechnet dir automatisch die Mehrwertsteuer, wenn du bestellst. Dann kommt Ihr Paket problemlos bei Ihnen an.
Wir werden diese Seite aktualisieren, wenn sich etwas ändert. Bei Fragen senden Sie einfach eine E-Mail an info@pinegroveleather.com oder verwenden Sie die In Kontakt Kommen seite.

Italiano
Amiamo l'UE e ci dispiace per la Brexit. Non è colpa nostra ovviamente, ma eccoci qui, in disordine.
Le nuove regole significano che i nostri clienti dell'UE ora devono pagare una tassa extra (IVA) quando acquistano da Pinegrove Leather. Il sistema per il pagamento dell'IVA è difficile per noi da impostare sul nostro sito web. Se non lo facciamo correttamente, il tuo pacco verrà trattenuto alla dogana dell'UE.
Tuttavia c'è una soluzione semplice: vai alla nostra pagina Etsy. https://www.etsy.com/uk/shop/PinegroveLeather

Etsy è un fantastico marketplace online dove puoi vedere tutti i nostri prodotti. I prezzi sono più alti, ma il costo di spedizione è integrato in Etsy, quindi è solo un po' più costoso. Etsy ti addebita automaticamente l'IVA al momento dell'ordine. Quindi il tuo pacco ti arriverà senza problemi.
Aggiorneremo questa pagina se cambia qualcosa. Per qualsiasi domanda, invia un'e-mail a info@pinegroveleather.com o utilizza la pagina Entra in contatto.
Swedish (Yes we know you all speak perfect English!)
Vi älskar EU och beklagar Brexit. Naturligtvis inte vårt fel, men här är vi i en röra.
Nya regler innebär att våra EU -kunder nu måste betala extra skatt (moms) när de köper från Pinegrove Leather. Systemet för att betala moms är svårt för oss att installera på vår webbplats. Om vi ​​inte gör det rätt hålls ditt paket i EU: s tull.
Men det finns en enkel lösning: Gå till vår Etsy -sida. https://www.etsy.com/uk/shop/PinegroveLeather

Etsy är en fantastisk onlinemarknad där du kan se alla våra produkter. Priserna är högre, men fraktkostnaden är inbyggd i Etsy, så det är bara lite dyrare. Etsy debiterar dig automatiskt moms när du beställer. Då kommer ditt paket att komma till dig utan problem.
Vi uppdaterar den här sidan om något ändras. Eventuella frågor är bara att maila till info@pinegroveleather.com eller använda sidan Kom i kontakt.