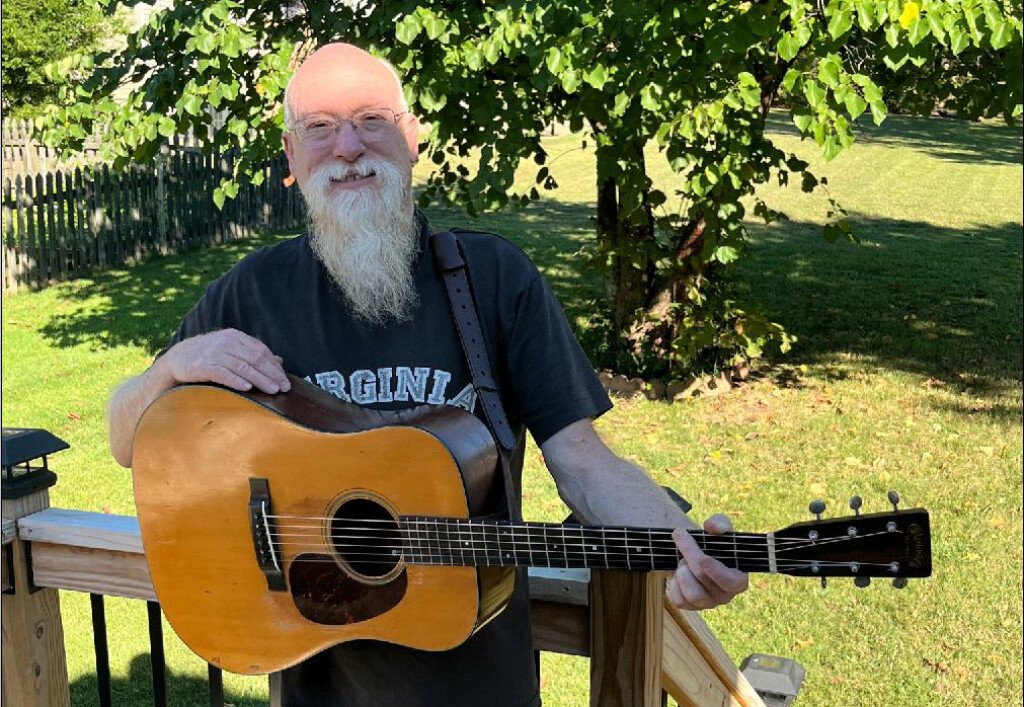 Rod writes….

Back in the 1980s I took up bluegrass guitar. I bought the usual tutor books and a ton of records old and new (I was still on vinyl). One name that kept coming up as a virtuoso flatpicker was David Grier. Man, he was fast and he was fancy, and I loved the way he still played plenty of old-time and early bluegrass tunes. Nothing was beyond him of course, as shown by the modern inventiveness of bluegrass supergroup Psychograss and other projects up to this day.

It's a long time since I played in a bluegrass band, but Pinegrove's straps are popular with bluegrass musicians and I still listen. So it was very exciting to receive a message in the summer, from another guitar master Adam Schlenker, telling me that he'd lent David Grier a strap at a recent gig. Well, that was a Pinegrove strap and David liked it so much that Adam had to give it to him!
Adam shared our details and I got in touch with David. Lovely feller, and very happy to become a Pinegrove endorser in return for some more straps. He even sent me a bunch of his CDs which have been filling the air in the Pinegrove workshop since September. Here's a snippet of his history:

"David Grier's father Lamar Grier, was a member of "Bill Monroe's Bluegrass Boys" in the mid-1960s. Throughout his childhood, David spent hours listening to Monroe as well as many other prominent pioneers of Bluegrass music. Among the most influential to him were flatpick guitarists Clarence White, Tony Rice and Doc Watson. David Grier quickly found a strong passion for guitar and began to develop what is now his own world-renowned distinctive style."

"In 1988, David began recording a series of critically acclaimed solo albums for the Rounder Records label. It was these recordings that pushed David to the forefront of the Bluegrass scene and brought him three IBMA Guitar Player of the Year awards."
You can read more at
David and Adam's favourite strap? The GS55 in brown: